If you are thinking about selling, it's likely you are also considering the best way to maximise the appeal of your home to as many buyers as possible.
Here we share some top tips for striking the right balance between the renovations you can easily DIY and those where clever budget spending will increase the sale value of your home without costing the earth.
Be your own home selling stylist by following these DIY tips to maximising the appeal of your home;
DIY 1 – give your home a professional clean.  From floor to ceiling and everything in between, the value of a spotlessly presented home is immeasurable.  Hire a carpet steam cleaner to freshen carpets and to remove stubborn marks and clean windows inside and out.
DIY 2 – spend a weekend in the garden, trimming hedges, trees and bushes, weeding and edging, removing rubbish and debris, fixing the mailbox and to make small repairs to your fencing.
DIY 3 – declutter your home.  It's important to remember that prospective buyers walk into your home and visualise themselves living there.  Decluttering is the best way to make your home appealing to the widest variety of people.
Clever Low Cost Budget Renovations for Selling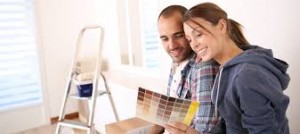 Painting your home's interior will give your rooms an instant lift.  Choose neutral colours that ensure the broadest appeal for your buyers, as well as enhancing the look and feel of rooms.  Small bedrooms will appear larger when painted white or off-white, while beige tones add warmth to living areas.
In the bathroom and kitchen, clever budget makeovers can add value and appeal without the cost and time associated with full renovations.  Take the time to objectively inventory these rooms to prioritise where the best improvements can be made, and consider:
Professional grout and tile cleaning.  This can return the sparkle to old, tired and grubby looking wet areas, while bath and basin resurfacing professionals can renew bathroom sinks, bathtubs and shower floors. 

Fixing broken, stained or outdated shower screens is a simple and cost effective way to instantly modernise your bathroom.
Installing an acrylic or glass splashback to rejuvenate older style and dated kitchen tiling.  Splashbacks give an kitchen makeover feel and can be affixed directly over your old tiles if necesarry.
On the outside, inventory your home's street appeal with a critical eye to ensure a great first impression with prospective buyers.  Consider cleaning your home's exterior walls and if necessary contact a specialist roofing company to repair old and broken guttering and mouldy and cracked roof tiles.
You won't regret spending time to create a selling repair and renovation to do list for your home, saves you time, money and above all else will ensure you get the best return for your home.
Advice, ideas, inspiration and quotes – do it all under one roof at Home Innovations, your one stop shop for building and renovations on the Mornington Peninsula or click here to view our exhibitors on display.